A knowledgeable source for Underground Utilities and Land Development
LaTour Construction Inc. is always available to answer your questions pertaining to the design and installation of underground utilities. Engineering firms and private land developers are welcome to set an appointment to meet our team, ask questions, and learn for yourself the depth of knowledge and experience that our managers have in the sewer and water industry.
We are often called upon by engineers to help with the design of large or complex sewer and water projects. LaTour Construction Inc. has earned a reputation for being an educated source of valuable information, as well as being honest and dependable.
Our project managers work with both engineers and private land developers from the initial stage of answering your questions regarding the feasibility of land development, all the way through the design and installation stages. We are there for you every step of the way; answering questions, presenting solutions and completing the project in a timely manner.
LaTour Construction Inc. creates long-term relationships with our clients to help make your job easier and to earn your trust and loyalty. We want to be your first and only call for land development and underground utility installations.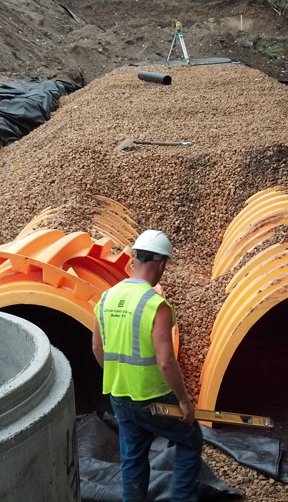 Call us for your next underground utility or street construction project.
Please call our office at 320-963-5993 to discuss your next project, or click to send us an email.